Prospective Students
Theater
Prospective students are encouraged to visit and tour our campus and our theatre facilities and meet with faculty and sit in on classes. Appointments are encouraged throughout the year.  

The faculty also hopes you can arrange to see a production as this is a great way to see how we work and our level of commitment to production in an academic setting. Complimentary tickets to our productions will be provided for your family.

If a student is interested, we can also arrange an overnight stay with a theater student and opportunity to attend classes and a rehearsal.

Please contact theater program director, Gregory Pulver, to arrange a visit.

Music
The music faculty hopes that you can arrange to see a concert, as this is a great way to see how we work and our level of commitment to performance in an academic setting, as well as the ensemble and solo opportunities presented to students. 

Please take a moment to fill out the Music Info Request form to get more information about any of our programs. Once we receive your information, we will send you information regarding our entire program so you can make decisions that fit your situation.

Please contact music program director, Patrick Murphy, to arrange a visit.  
Want more information?
In an effort to help you learn more about studying music and theater at the University of Portland, we have put together a list of students and alumni who would be happy to communicate with you about our program. Students can give you inside information about courses, performance opportunities, and advanced training, as well as express their impressions of the University as a whole. The list includes a variety of students, with different backgrounds and aspirations. Contact any of them who might help you make your decision as to whether the University of Portland is a good fit for you.
Hi, I'm Sadie! I'm a junior English and Music major working on a vocal performance focus from Denver, Colorado. I've taken voice lessons at UP from Dr. Nicole Hanig and Dr. Lisa Actor for almost four semesters now. I've grown tremendously over these short two years, and I've had countless opportunities to perform--from performance workshops and music at midweek concerts to NATS competitions. I've also been involved with University Singers since my freshman year. Though being in an ensemble is a requirement for my music major, Singers cultivates such a close and exciting community that I would join even if I didn't have to.

Outside of UP, the music program offers tons of exciting opportunities! This summer (July 2020) I'll be traveling to Italy with a couple other UP students for almost a month to participate in an opera intensive program called Music in the Marche. The voice staff at UP helped greatly in making this opportunity available to students as well as overseeing the audition process. UP offers so many events, clubs, and opportunities outside of classes that it's easy for me to find ways to get out of the practice rooms every once in a while. For example, I'm an editor for UP's literary magazine, Writers, and I'm involved in the honors program! As someone who has grown up with music their entire life, I'm grateful for the opportunity to develop my craft and push my boundaries at UP's music program. In the future, I hope to be able to use both of my majors in the future as a music journalist and editor, but no matter what, I can't wait to see where my music degree takes me! I can be contacted at wuertz22@up.edu and I'd be happy to answer any questions!
Maddie Southard, Theater Major, Design and Dramaturgy
Maddie (a junior) spends her time working on design projects and acting as a dramaturg on UP productions. She also spends time working in the scene shop building and painting sets. When she's not in the theater, she can be found reading a good book or exploring the beautiful outdoor spaces around the city. Below is a photo and the Scenic Design Note from her design for Wolves Eat Elk by MJ Kaufman in Dec. 2019.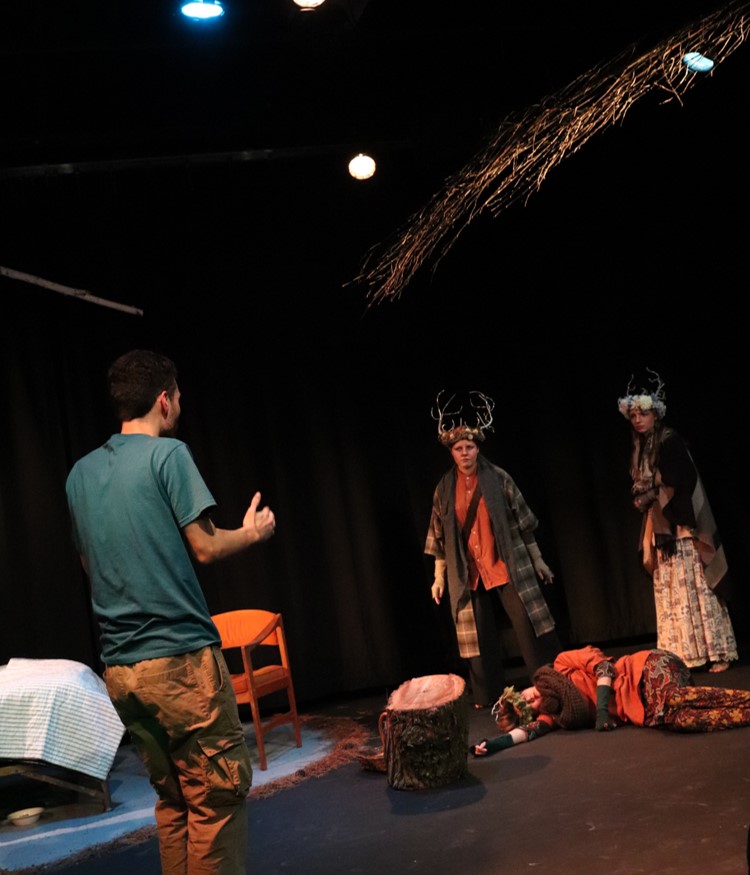 "The future of the environment and the fight against climate change seems bleak.  Reports emerge every day about how time is running out and there is little hope in changing our course.  Big businesses continue to control legislation regulating emissions and it feels like we as everyday people are powerless.  Yet, there are so many little things we can do to ease our own impact on the environment.  For me, this play specifically encourage me to look at what I could do in my own life to make positive change and to keep an optimistic outlook on the future.  That is what inspired me to design this set with sustainability in mind.  Almost everything you see before you was repurposed, recycled, or saved from life in the landfill.  None of the major materials were purchased new.  Upon further research, I learned that not many theaters and designers practice sustainability and the industry as a whole, is far behind in climate consciousness.  Although this is just one set in an entire world of productions, I hope that by practicing sustainable design, I can encourage other designers to do the same elsewhere.  International sustainability is the best way forward.  How can you sustainably alter your daily habits and choices? "
Natalie Werner, Alumni - Music Major, Vocalist & Conductor
I'm Natalie, and I graduated with a BA in Music from the University of Portland in 2019, with a dual emphasis in vocal performance and pre-music education. During my time at UP, I was able to work with a wide range of ensembles on campus: singing with the University Singers and Women's Chorale, soloing with the Jazz Band and Combo, participating in multiple instrumental chamber ensembles, and strengthening my percussion skills with both choirs and the Wind Symphony. As a vocalist, I was thrilled to explore multiple genres of music over my four years, studying with Dr. Nicole Hanig. Through her mentorship and expertise, I was honored to win the University of Portland Concerto/Aria competition in 2018. 

The opportunity that truly defined my experience at UP was serving as a conducting associate for three semesters, working with both Dr. De Lyser and the University Singers, and Kathryn Briggs and the Women's Chorale. This kind of hands-on exposure to conducting during my undergraduate degree was an incredible opportunity that, I later learned, is typically unheard of at the undergraduate level. Through this experience, I developed a level of musicality, intricacy and confidence that truly molded me as a musician, a conductor and a person. 

Since graduating from UP, I have begun my studies at the University of Colorado-Boulder, where I am pursuing a Masters of Music degree in Choral Conducting, with a voice performance emphasis. I have discovered that I am more grateful than ever for the education and support that I received at UP, as I have been able to successfully approach the rigor and intensity of a master's degree at a school much larger than the one that I came from. This speaks volumes about the level of preparation that UP is arming their music students with, in order to enter the world after their bachelor's degree with complete readiness. I am confident that the kind of opportunities that I was exposed to here were, and will always be, the fundamental reason for my continued success and self-confidence.