ILC Internships
Practical language learning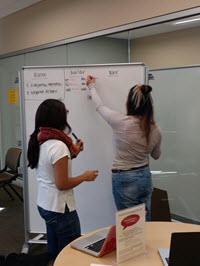 Our students with more advanced proficiency in French, German, Spanish, or Mandarin can intern as classroom assistants at local immersion schools or as language tutors at UP in our Language Studio in the Learning Commons in Buckley Center 163. Our internships provide students with important language experiences outside the normal university classroom. Our interns are well positioned to become strong applicants for Fulbright and other English teaching assistantships.
FRN/GRM/SPN/CHN 497I A: Language immersion program practicum (1 credit)
This course provides students with the opportunity to improve their target language learning and use by assisting experienced teachers in language immersion programs at the pre-K and elementary school levels. The core of the practical work in the children's classes will include interacting with children exclusively in your target language of study, supporting the teacher with transitions, and might have – depending on the program – the opportunity to lead small or whole class groups. To support you, we will learn more about language learning strategies that you can use. Interns typically work 20 hours during the semester in the school and participate in weekly classroom sessions to debrief their experiences and learning. For more information about interning in area schools, contact Jennifer Hensley.
FRN/GRM/SPN/CHN 497I B: Language tutor internship (1 credit)
Students enrolled in this course receive both general tutor training and specialized training in second language acquisition theories and practice. Tutors typically tutor between 10-15 hours during the semester. Upon completion of the course, interns are eligible to be considered for any openings for language tutors in the Learning Commons. The general training follows the tutoring training curriculum of the Learning Commons and can, for those who tutor at least 25 hours, lead to certification at Level 1 of the International Tutor Training Program that the College Reading and Learning Association administers. For more information about this internship opportunity, contact Jeffrey White.