Public Research Fellows Events
The 2021 PRF Showcase
Thursday, Apr. 29, 2021
7:00-8:15pm PDT
The Public Research Fellows invite you to a showcase of the program's 20-21 work. Students and faculty fellows will unveil their projects and be on hand to guide attendees through a variety of lenses for thinking about our theme, Displacement and Justice. From a podcast that explores displacement through the experience of first-generation students, to an interactive map that uses Portland African American literature to tell local stories of displacement, to a virtual performance that thinks through displacement with music—the PRF teams have created a range of exciting projects that use innovative, accessible forms to expand our ideas of what research can look like. Join us for this interactive event to get inspired about the possibilities in your own work and learn more about how displacement manifests in local contexts and beyond.
Public Humanities at UP: Imagining PRF's Future
Thursday, Apr. 8, 2021
4:00-5:15 PDT
What are the "Public Humanities"? How have UP faculty and students participated in Public Humanities work? And how might the Public Humanities enable or inspire your own thinking, learning, and teaching—and be mutually enriching for you and for the public? We invite you to join us for a discussion of these questions and more. We'll be sharing some pillars of the public humanities; giving an overview of how the PRF program has enacted these; and inviting input from participants about other ways of envisioning Public Humanities work at UP and beyond.
Displacement and (In)Justice in Portland: A Roundtable Discussion with Community Leaders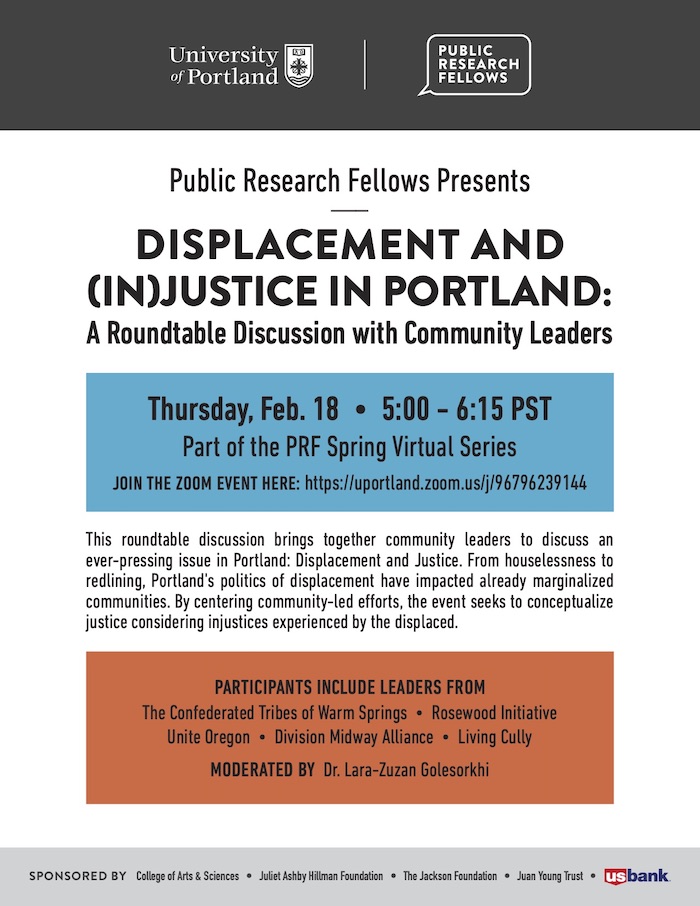 Thursday, Feb. 18, 2021
5:00-6:15 PST
Join us for a roundtable discussion that brings together community leaders to discuss an ever-pressing issue in Portland: Displacement and Justice. From houselessness to redlining, Portland's politics of displacement have impacted already marginalized communities. By centering community-led efforts, the event seeks to conceptualize justice considering injustices experienced by the displaced.
Watch a recording of the event here. 
PRF 2020-21 Kickoff: Displacement and Justice
Friday, November 13, 2020
3:30-4:45 PST
Join us as we kick off the program's 2020-21 theme with a talk by Dr. Lara-Zuzan Golesorkhi (Political Science and Global Affairs / Gender and Women's Studies): "Displaced Justice: On Agency, Representation, and Accountability." Golesorkhi will problematize power dynamics at the nexus of displacement and justice and discuss the ever-pressing question of "who speaks for whom" by sharing experiences from her work as a scholar-activist. Guided discussion with the program fellows to follow.
The Fight to Vote: Engaging the Public in Suffrage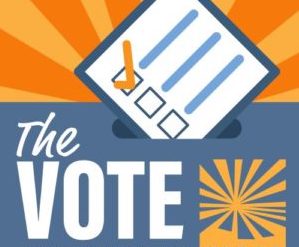 Thursday, Oct. 1, 6-7pm on Zoom
As we look ahead to November, voting rights have never been a more important part of the national conversation. But what are the best ways to engage the public on this vital issue? And how can academic work make a real difference in how we understand the history of the vote and its meaning today? Join us for a panel discussion featuring students, faculty, and activists as they talk about their work in the inaugural 2019-2020 year of the Public Research Fellows program and in the community. 
Virtual Talk by Dr. Brittney Cooper
Friday, September 4, 2020
3:30-4:30pm (PDT)

Please join us for a virtual talk by Dr. Brittney Cooper, titled "Trust Black Women: The Importance of Black Women in U.S. Politics." Cooper will discuss the struggle for Black women's suffrage and the historical role of Black women's vote, making the case for why there is no progressive politics in America without Black women. Cooper's address will be followed by a Q&A with attendees.
Follow the link below to register and feel free to share with others who may be interested in attending what is sure to be a provocative discussion with resonance for the upcoming election season.
Cooper's talk will kick off the Public Research Fellows Fall Virtual Series, a set of online events that bring the UP campus and the local community together to explore a timely theme. Stay tuned for more details!
Program Kick-Off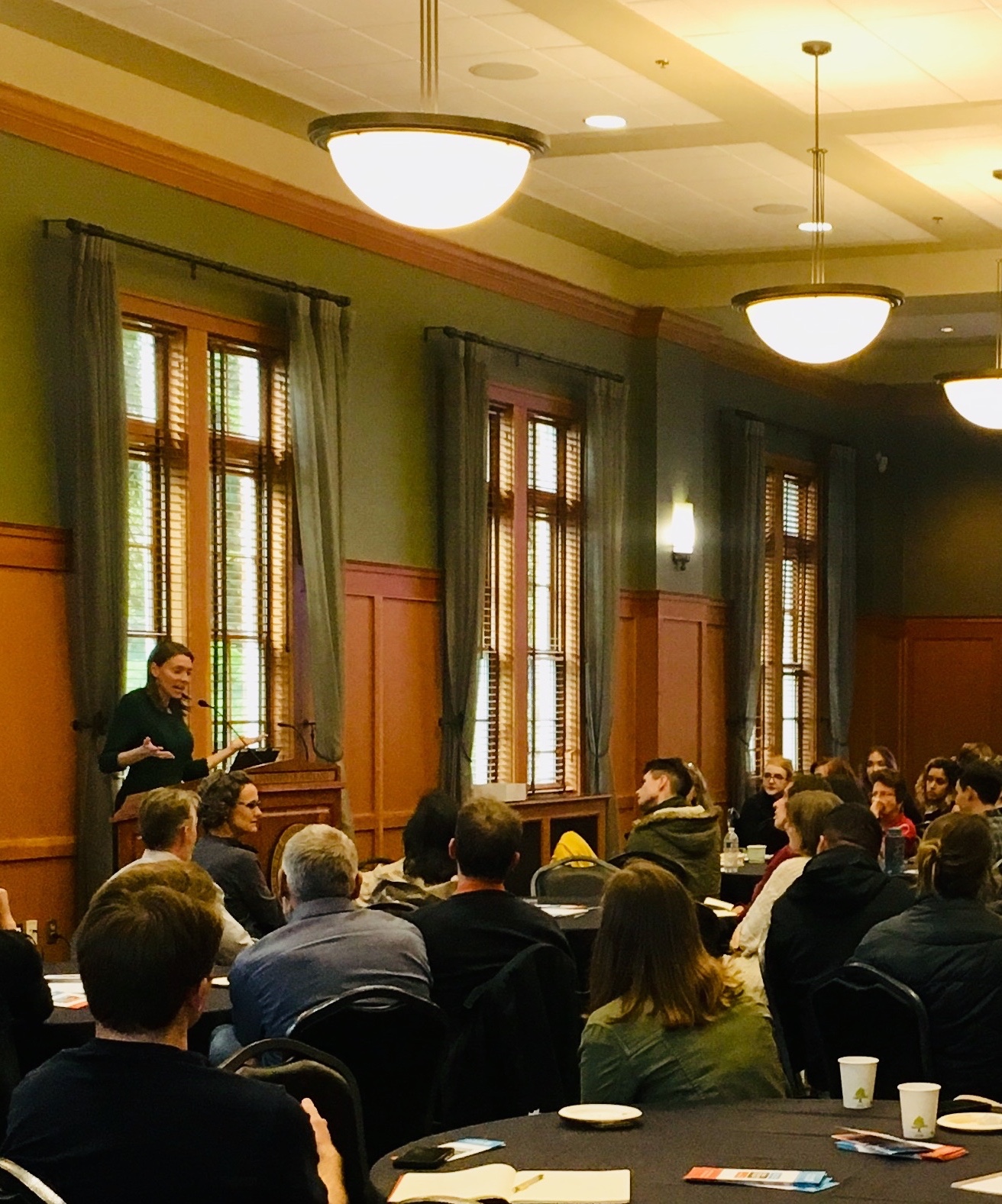 Monday, September 23, 2019
4–5:30 p.m.  |  Bauccio Commons Board Room
The Public Research Fellows Program kicked-off its inaugural year with a lecture by History professor Christin Hancock, "A History of the Woman Suffrage Movement in the U.S." Hancock then led the audience in a rotating, interactive discussion on questions of women's history and memorialization. Over 60 attendees, both students and faculty, were in attendance for this lively introduction to the program.