Department of Theology
Theology majors learn crucial skills for thinking critically about the world, writing persuasively, problem-solving, and communicating effectively—valuable skills all employers seek. While some of our majors pursue graduate work in theology, other students go on to have meaningful and successful careers in a variety of fields.
Through studying theology, students are educated in the influence of religious belief on personal psychology and decision-making, while also learning and thinking about the role that ethics, morality, and spirituality have in our modern world.  Be it interpersonal connections, shaping of public policies, or the enrichment of culture and the arts in our society, the role of theology continues to have an inspirational role.
-Christina A. Astorga
Department Chair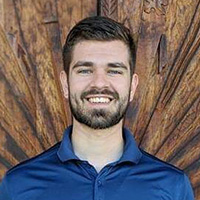 Tyler Tangen - Class of 2019
Theology
"Maybe God is actually calling me to give my entire life to this type of work."