Diversity, Equity, and Inclusion
The College of Arts and Sciences continuously strives to create a community that is diverse, inclusive, and equitable. We are committed to enacting and modeling these values in our classrooms, in our daily interactions, and in our communities.

Highlights of the Year | Student Learning Opportunities | Faculty Professional Development
Highlights of the Year
College of Arts and Sciences Positions to Contribute to Ethnic Studies and Diversifying Efforts
Ethnic Studies Director
We are very proud to announce that Dr. Amy Abugo Ongiri has been hired as Professor of Ethnic Studies and Director of the Ethnic Studies Program. 
Dr. Ongiri is currently an Associate Professor and the Jill Beck Director of Film Studies at Lawrence University. Her book, "Spectacular Blackness: The Cultural Politics of the Black Power Movement and the Search for a Black Aesthetic," explores the cultural politics of the Black Power movement, particularly the Black Arts movement's search to define a "Black Aesthetic." Her research interests include Ethnic Studies, Film and Media Studies, Africana Literature and Culture, and Gender and Sexuality Studies.  
Dr. Ongiri is a beloved teacher and advisor and has extensive experience in community outreach, multimedia programming, and program development. We are so excited about the possibilities for this new program under her leadership, with all the experience, scholarship, and talent that she brings.   
 
The Ethnic Studies Search Committee sincerely thanks all who participated in this search and helped make it such a tremendous success. Please join us in warmly welcoming Dr. Ongiri into our community! 
 
The Ethnic Studies Search Committee: Sarina Saturn, Alexa Dare, Lara-Zuzan Golesorkhi, Lara Trout, Simon Aihiokhai, and Alejandro Santana. 
Dr. Brittney Cooper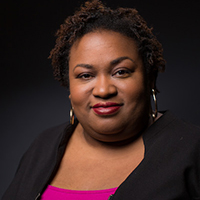 The College of Arts and Sciences' Public Research Fellows hosted a virtual presentation by Dr. Brittney Cooper, Associate Professor of Africana Studies at Rutgers University on September 4, 2020. Dr. Brittney Cooper's talk, "Trust Black Women: The Importance of Black Women in US Politics," addressed the ways that Black women's political agenda has always been central to progressive politics in the US, but that this work is often co-opted and repurposed for white politicians' political ends. She asked white women to ask themselves: "How are you undercutting or colonizing the work of the Black women in your lives? Are there Black women and women of color who are making your work easier because they are doing all the work?"

Our Public Research Fellows organizers, Dr. Molly Hiro and Dr. Jen McDaneld facilitated this exciting wrap-up to our Women's Suffrage Centennial programming from last year. More than 330 people from around the country called in to listen to Dr. Cooper's talk.
Displacement and (In)Justice in Portland: A Roundtable with Community Leaders
On February 18, the Public Research Fellows hosted a roundtable of community leaders to brings to discuss an ever-pressing issue in Portland: Displacement and Justice. From houselessness to redlining, Portland's politics of displacement have impacted already marginalized communities. By centering community-led efforts, the event seeks to conceptualize justice considering injustices experienced by the displaced.
Workshops on Microaggressions, Organizing for Social Justice, and Strategic Planning with Andres Gúzman
The Department of Performing and Fine Arts invited Andres Gúzman, Coordinator for Equity, Diversity, and Inclusion (EDI) in the College of Education (COE) at Portland State University, to lead two workshops for faculty and students in PFA and the College of Arts and Sciences on microaggressions (March 6, 2021) and organizing for social change and social justice (March 26, 2021).
Student Learning Opportunities
Imagining our Futures: Making Sense of COVID-19, Black Lives Matter, and Climate Change
Nineteen faculty from the College of Arts and Sciences and five faculty colleagues from across campus created a transdisciplinary and responsive course entitled "Imagining our Futures: Making Sense of COVID-19, Black Lives Matter, and Climate Change" to intentionally connect these issues in an academic environment. More than 250 students spanning 14 different majors participated in the course. After first setting a foundation for racial justice, climate change, and the biology of the coronavirus, the course explored how these three issues are deeply interwoven and interdependent. Each week faculty were charged with stepping out of their disciplinary silos and making explicit connections between COVID-19 and racial justice, racial justice and climate change, and/or climate change and COVID-19. Examples of topics included "Racial Disparities in Water Resources," "Climate, Adaptation, and the Global South," "The Anthropocene, Race, and Nonhuman Animals," and "Race, Disease, and Health." Students were expected to (a) think inter-disciplinarily and problem-solve macro and micro concepts; (b) reimagine possibilities for our daily routines and all that humans impact; and (c) confront implicit bias and the often invisible, embedded ways that Whiteness and racism continue to shape the United States.

Faculty participants
Kali Abel, Tina Astorga, Bill Barnes, Heather Carpenter, Alexa Dare, Sharon Delcambre, Laurie Dizney, Todd Easton, Louisa Egan Brad, Vail Fletcher, Lara-Zuzan Golesorkhi, Kristine Harrington, Nicole Hanig, Greg Hill, Steve Kolmes, Andrew Lafrenz, Norah Martin, Susan Murray, Cara Poor, Tara Prestholdt, Giannina Reyes-Giardiello, Kristin Sweeney, Christine Weilhoefer
BLM & Racial Justice Lecture with Louisa Egan Brad
Faculty Professional Development
Faculty Workshops
Modeling Anti-Racism: How to Use Inclusive Language and Honor Diverse Racial-Ethnic Identities in the Classroom
Facilitated by Lauren Alfrey on September 30, 2020.
Racial Trauma in the Classroom: How to Recognize and Address the Impact of Systemic Racism, Microaggressions, Implicit Biases, and Tokenization 
Facilitated by Sarina Saturn on October 22, 2020.
Anti-Racist Pedagogies and Teaching — Decolonizing Syllabi

Facilitated by Lara-Zuzan Golesorhki, March 4 and 25, 2021.