Public Research Fellows
Displacement and (In)Justice in Portland: A Roundtable with Community Leaders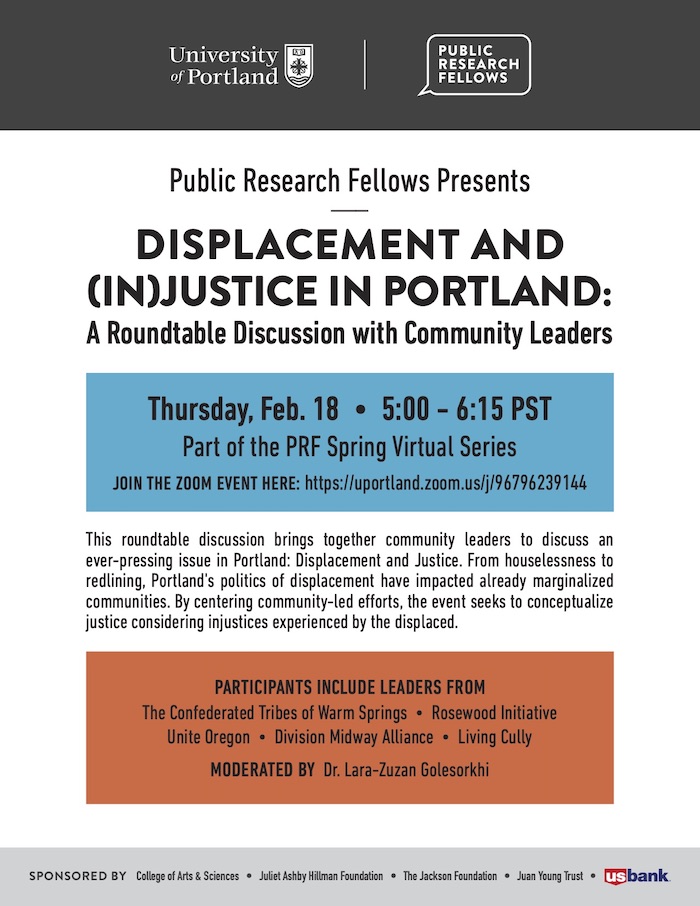 Thursday, Feb. 18, 2021, 5:00-6:15pm PST
Join us for a roundtable discussion that brings together community leaders to discuss an ever-pressing issue in Portland: Displacement and Justice. From houselessness to redlining, Portland's politics of displacement have impacted already marginalized communities. By centering community-led efforts, the event seeks to conceptualize justice considering injustices experienced by the displaced.
Watch a recording of the event here.
The Fight to Vote: Engaging the Public in Suffrage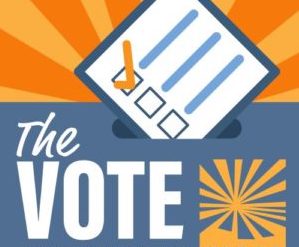 Panel Discussion, Thursday, 6-7pm on Zoom
As we look ahead to November, voting rights have never been a more important part of the national conversation. But what are the best ways to engage the public on this vital issue? And how can academic work make a real difference in how we understand the history of the vote and its meaning today? Join us for a panel discussion featuring students, faculty, and activists as they talk about their work in the inaugural 2019-2020 year of the Public Research Fellows program and in the community. 
Register to Vote in Oregon Here
Virtual Talk by Dr. Brittney Cooper
Friday, Sept. 4, 3:30-4:30pm (PDT)

Please join us for a virtual talk by Dr. Brittney Cooper, titled "Trust Black Women: The Importance of Black Women in U.S. Politics." Cooper will discuss the struggle for Black women's suffrage and the historical role of Black women's vote, making the case for why there is no progressive politics in America without Black women. Cooper's address will be followed by a Q&A with attendees.
Follow the link below to register and feel free to share with others who may be interested in attending what is sure to be a provocative discussion with resonance for the upcoming election season.
Cooper's talk will kick off the Public Research Fellows Fall Virtual Series, a set of online events that bring the UP campus and the local community together to explore a timely theme. Stay tuned for more details!
About the Program
The Public Research Fellows program engages faculty and students in collaborative research in a public humanities project centered around a year-long theme.
2019-2020 Theme
This year's theme is the U.S. Women's Suffrage Centennial. Faculty fellows from a variety of humanities disciplines will work with students to co-develop and implement public-facing projects that take the historic and contemporary topics of women's voices, civil rights, and political engagement as a prompt.
Public Humanities
The public humanities draws on the humanities' powerful modes of inquiry—things like interpreting, historicizing, raising questions, and analyzing discourse—to address pressing concerns in our local communities, in our wider publics, and in our everyday lived experience. To produce these impacts, public humanities methods toward collaboration—across disciplines, and across campus/community borders, using innovative forms of dissemination that can reach a wider, more diverse variety of publics and open up new avenues of civic engagement.
PRF News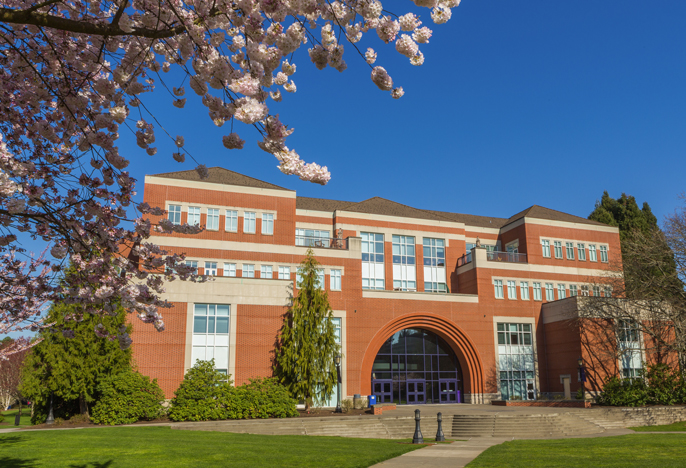 University of Portland Public Research Fellows Program secures grants inspired by Centennial of Women's Suffrage
The University of Portland's inaugural Public Research Fellows Program has landed three external grants to support public humanities undergraduate research projects inspired by this year's 100th anniversary of the ratification of the 19th Amendment, which gave women the right to vote. The Juliet Ashby Hillman Foundation has awarded $14,582, the Juan Young Trust has granted $10,000, and the Jackson Foundation has given $7,500 to fund projects that explore the suffrage movement, voting rights and women's political voices in the modern era. The program has also received a $2,500 sponsorship from US Bank.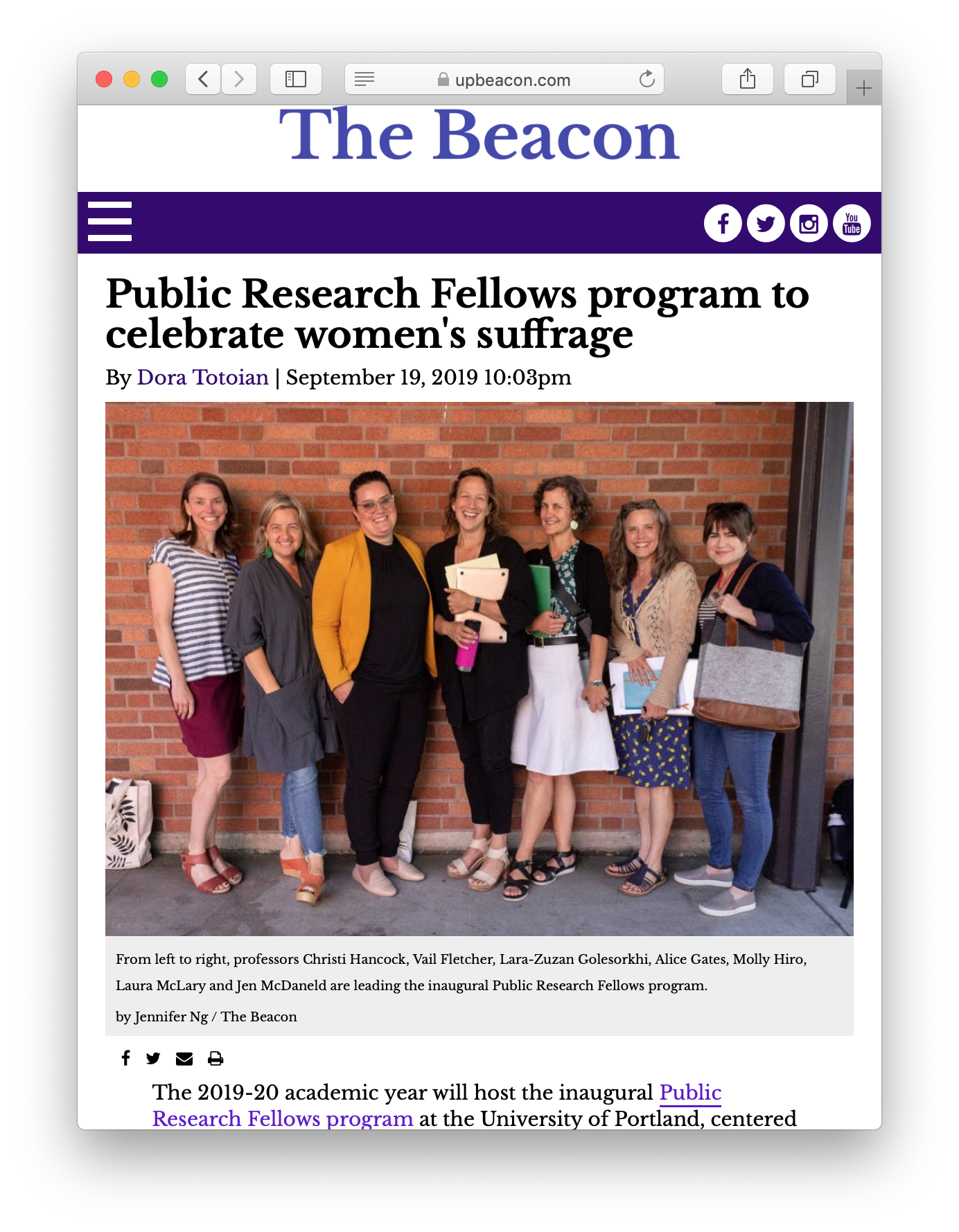 PRF featured in The Beacon
"The 2019-20 academic year will host the inaugural Public Research Fellows program at the University of Portland, centered on the centennial of U.S. women's suffrage..." Read the article.