Mathematics Alumni Profiles
Mikahl Banwarth-Kuhn '11
Postdoctoral student at UC Merced
Why did you decide to be a math major?
My first year of college I didn't take any math classes. I remember so many times when I'd be writing papers for my english or religion classes and thinking about how much I missed doing math homework. But I wanted to pursue a career that helped people and served the greater good, and I saw these two interests as disparate fields. During my second year of college I studied abroad in Mexico where I took part in a volunteer program confronting health and education inequality. The professor leading the project was very interested in gathering lots of different types of data at different stages of our work and that was the first time I saw how math and quantitative methods could have a very important role in such efforts. So when I transferred to UP I decided to officially declare myself as a math major. I wasn't sure where that major would take me, high school teacher? Medical School? Masters in Public Health? But even that early in my career, I recognized the importance and versatility of math and I knew I would be gaining invaluable knowledge (that I also enjoyed learning).  
How are you using what you learned in your math courses in your career/life today?
Well, very much to my own surprise, I ended up deciding to pursue a PhD in math and now I am a postdoc in the Applied Math Department at UC Merced. So in my case, I use math everyday (although I consider myself more of a mathematical scientist than a mathematician). Obviously I learned a lot as a graduate student and got a lot better at the math I first saw as an undergraduate at UP, but without a doubt my time in math classes at UP led me to where I am today.  
The biggest thing I learned in my math classes at UP was how to think. Since I decided to become a math major later in college, I did not have a lot of time to take a large number of math classes and I also never had the opportunity to do undergraduate research. So I felt very insecure about the amount of exposure I had to math entering grad school, especially compared to some of my peers who went to bigger undergraduate schools and had the opportunity to take graduate courses already. But, I can proudly say that I was way more prepared than them because I had learned how to ask the right questions, be okay with being really confused and having the patience to guide myself through tricky concepts, and honestly not being afraid to try things and fail. I would say that creativity and persistence are two of the most important qualities that math can teach a person.
 What advice would you give to a current math major (or someone considering being a math major) at UP today?
Take as many different kinds of math classes as you can and have fun! The professors at UP are seriously the best you could ever ask for. Soak up as much of their knowledge and goodness as possible. Also, there are so many things you can do with a math degree or math skills. Find the thing you are passionate about, whether that is purely mathematics or not, and find a way to combine your love or interest of math with that passion. So many fields outside of math (biology, medicine, social justice, policy) are dying for more quantitative minded people to barge in and start shaking things up with our big old brains. Ask lots of questions and probably learn how to code.
Jake DePledge '15
Airforce Pilot
Why did you decide to be a math major?
To be honest, it's just what I enjoyed most! I had kicked around engineering for a bit, but in high school math was always the subject I looked forward to most, so why not stick with what I liked?  Granted, math has its fair share of application in a variety of other subjects, but I liked it for its raw, challenging computation.
How are you using what you learned in your math courses in your career/life today?
I fly a cargo jet called the C-5M Super Galaxy for the U.S. Air Force. The pilots I fly with have a wide range of degrees. History, business, communications, psychology, aerospace engineering… you name it. While having a math background was not required by any means, the technical type thinking it taught me has definitely been a plus. Some of the computation required to fly includes building descent profiles to be sure you can make it from a high altitude down to the runway within the airplane's limitations, fuel planning based on varying aircraft weights, and lots of time conversion while flying around the world. There are tons of factors that go into a jet being able to get airborne. Weather, cargo weights and its effect on a jet's center of gravity, airfield restrictions, crewmember qualifications, fuel loads and burn rate based on weight are just a few of the considerations a crew faces every flight. The critical type thinking required of a math major is largely similar to that of a pilot trying to complete a mission with lots of moving parts. You may be the guy/gal who knows the most about flying a tactical approach, but the flight engineer you're working alongside may know a whole lot more about the fuel or hydraulic systems. In the same way I would work with my buddies to solve a monster proof in school, I have to work with the crew to find the safest way to troubleshoot issues encountered in flight.
What advice would you give to a current math major (or someone considering being a math major) at UP today?
I will be the first to admit I was never a mathematical genius, so for me declaring math as my major was a bit daunting. However, if there is any place to take that leap of faith it's at UP. The small class sizes and tight knit math department encouraged teamwork and group problem-solving that often times included both students and professors. That's definitely not the norm and hard to beat. Don't stress about it, but start to explore career opportunities early. Math is a highly marketable skill because you have to be smart and driven to be successful in the major. Realize employers understand that although your skills may not always correlate to real world in the way of number crunching, they are hiring a type of person who is able to think critically and undoubtedly find "outside the box" solutions to challenging problems.
Jason Hortsch '12
Data Scientist
Why did you decide to be a math major?
I initially decided to be a math major because I wanted a challenge, and I felt that it could be applicable in many different fields down the line. I didn't know exactly what I wanted to do at that point in my life, but I know that a degree in math would help me open many different types of doors down the road. 
How are you using what you learned in your math courses in your career/life today?
At my job, I am constantly programming in Python, and the overlap between programming and math is quite large. It's entirely logic based, and I can say without question that many of the courses I took at UP helped to hone those logic-based instincts (Real Analysis I and Discrete Structures particularly stand out in this department). Additionally, much of my job is to surface relevant information to stakeholders, and the statistical fundamentals I learned in Applied Statistics are put to use quite literally every day while doing this. 
What advice would you give to a current math major (or someone considering being a math major) at UP today?
I would strongly, strongly encourage anyone potentially interested in majoring math to research the field of Data Science. While you can certainly do other things with a math degree, in my experience being out in the 'real world,' the odds are extremely high that you will end up in Data Science or in a field that is heavily related to Data Science. It is a growing need amongst almost every company, and if I could go back, I would structure my learning goals about how to most effectively become a Data Scientist. Second, I would highly recommend taking a healthy dose of programming courses. It was a huge regret of mine, as I had to work extremely hard to get my programming skills up to par in order to do the type of work that I wanted to do. It goes the other way, though - if someone is currently a Computer Science major, I would again strongly recommend that they take some high-level math courses as well. Out in the industry, it has been my experience that these fields are closely related, and having knowledge in both is seen as a huge plus. 
Allie Lewis '11
Mathematics professor
Why did you decide to be a math major?
I had always loved math in grade school, but I entered college under the common misconception that "all you could do with a math major was teach". As such, I decided to go the sciences route. I started off in biology but really missed math, so I switched to chemistry…but there still wasn't enough math!  That's when I finally realized that I really belonged in the math department. And, lo and behold, there were lots of things you could do with a math major! Ironically, I ended up going into teaching after all (and I love it), but there were so many other routes I could have taken with my degree.
How are you using what you learned in your math courses in your career/life today?
Of course, being an undergrad math professor, I use the actual mathematical concepts and ideas that I learned in my undergrad courses on a daily basis. However, I find that the most helpful skills I picked up in my courses (whether or not I realized it at the time) were (1) the ability to think critically about a problem and persevere through frustration, and (2) the ability to communicate my thought process, both to other mathematicians and a non-specialized audience. These are skills that can't be learned from a textbook, and they are invaluable to me in my job today! 
What advice would you give to a current math major at UP?
Try a little of everything! There is always time to specialize in a specific area later on in graduate school or in the workforce, but now is the time to take it all in and expose yourself to different areas. I am an applied mathematician; I work primarily on problems in mathematical biology, and I knew pretty early on that my interests lay in the realm of applications. But that didn't stop me from taking courses like abstract algebra, real analysis, and topology. I may not have used topology since, but I had a great experience in that course, gained exposure to a different area of mathematics, and really grew as a mathematician. Exploring a wide range of courses gives you an appreciation of the breadth, depth, and beauty of mathematics, regardless of whether or not you end up revisiting those specific topics later on.
James Mahoney '10
Operations Researcher at the National Security Agency 
"In my current position, I use a combination of math, data science, and programming skills to solve challenging problems that come from all across the agency. I have found that I still use the math and teaching skills I gained at UP, both in my daily work and in communicating complicated concepts to my customers. During my time at UP, my favorite mathematics class was a number theory course. This class was run using the Moore Method, which meant that the professor supplied us with definitions and statements to prove, and we had to figure out how to craft the proofs. It was very student-centered and was a gratifying experience for me. Studying math can be hard, but it's worth sticking with it. My positive experiences with math classes at UP led me to believe that I could handle post-graduate studies in mathematics. After graduating from UP, I continued my education and received a master's in mathematics in 2012 and a Ph.D. in mathematical sciences in 2016."
Grayson Penfield '14
Software Architect
Why did you decide to be a math major?
I decided to be a math major while taking calculus in High School. Calculus was one of the best, most interesting classes I had ever taken. I really like learning math and felt like I took to the material very well. However, I initially enrolled at UP as an engineer because I was under the impression that Math Majors were destined to be tutors/teachers (which I didn't necessarily want to be) while engineers had better career options. I wasn't happy as an engineer though. Fate intervened during my first semester at UP in a class with Dr. Salomone; after class one day she stopped me on the way out the door and suggested that I become a math major. To me it was a sign that I really should be a math major, so I switched that week and never looked back.
How are you using what you learned in your math courses in your career/life today?
To me the essence of math is the ability to think, reason and solve problems abstractedly. To that end I use math every single day in my current job as a Software Architect. I attribute my success working in software to the critical thinking and abstract problem solving skills I gained while studying math at UP.
What advice would you give to a current math major (or someone considering being a math major) at UP today?
My advice to current and potential math majors is: Understand that becoming a mathematician (while making you better with numbers than most people) also makes you a significantly better problem solver in general. In all walks of life there are abstract problems, and good solutions are in high demand. If you become a good problem solver then there are many opportunities in life for you to shine.
Sam Procopio '04
Principal of Bishop Blanchet High School
Why did you decide to be a math major?
I entered University of Portland with my major undeclared and, on the first weekend on the bluff, met with a math faculty member to talk about what majoring in mathematics looks like. He explained the value of a math degree: A math degree is a very challenging degree to earn and can be applied to many different fields, such as business, education, applied sciences, computer science, and law. I was attracted to finding a major that would challenge me, and one that would buy me a little time while I explored classes and discerned the path I would take for my vocation.  Math seemed like the perfect fit for me, and in hindsight it was.
How are you using what you learned in your math courses in your career/life today?
After graduating with a Bachelor of Science in Mathematics from the University of Portland, I earned a Master of Education from the University of Notre Dame's Alliance for Catholic Education (ACE) teaching service program. During the ACE program, I served for two years in Charlotte, NC at Holy Trinity Catholic Middle School as a 7th grade math teacher and soccer and basketball coach.  After the ACE program, I taught math at Interlake High School in Bellevue, WA and taught math and computer science at Holy Names Academy in Seattle, WA. Needless to say, I used math everyday in those jobs. Recently, I completed a Doctorate of Education from Seattle University in Educational Leadership, and now serve as the Principal of Bishop Blanchet High School in Seattle, WA, my alma mater, and also still teach a section of AP Computer Science. The analytical skills I gained while earning my math degree come in handy every day. The job of a school administrator requires not only the ability to manage multiple budgets, but also the skills to problem solve multiple times a day.
What advice would you give to a current math major (or someone considering being a math major) at UP today?
I would tell a current college student that getting a math degree was one of the smartest things I've ever done. I would also share that this is one of the most difficult degrees to earn, so be prepared for a challenge. My math degree has opened so many doors for me, and there are countless other opportunities I could have pursued. While I chose the vocation of serving Catholic schools, I have spent the last 16 years trying to inspire the thousands of students I have taught, especially those from underrepresented groups, to pursue STEM fields like math and computer science.   
Roger Rosales '06
Actuary at Standard Insurance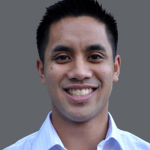 "The UP mathematics department built a solid foundation for me to solve problems using a systematic approach. As an actuary at an insurance company, I am a mathematician who analyzes risks by using mathematics, statistics, and business knowledge. My current job responsibilities include actuarial modeling around financial planning, enterprise risk management, product development, and embedded value. Having a liberal arts education from UP helps me make forward looking projections by understanding many disciplines like politics, the economy, and environmental issues. While at UP, I held a summer internship at a local insurance company. This experience solidified my goal to become an actuary. After graduating from UP, I passed a series of actuarial exams to become a fully credentialed actuary. I wanted a career where I could do math for a living and practice applying my skills on the business side. The actuarial field was perfect for me since it combines both math and business."
Brett Turner '09
Airforce Pilot
Why did you decide to be a math major?
I decided to become a math major because I wanted to be a pilot in the Air Force, and as a teenager heading into college, I always figured you had to be good at math to be a pilot. Turns out that's not totally true, but it also turned out to be one of the best misinformed decisions I've made.
How are you using what you learned in your math courses in your career/life today?
Honestly, I haven't directly used a whole lot of math in my work outside of basic arithmetic and a little geometry. But what I have used time and again is the problem-solving skills it built in me, the work ethic that math demanded for me personally, and the mindset of outside-the-box thinking that helped me look at a problem from multiple viewpoints. The way that math taught me to think has been priceless.
What advice would you give to a current math major (or someone considering being a math major) at UP today?
My advice is, it's worth every minute and challenge and frustration that majoring in math can bring. Not to mention the math department became my family while I was at UP. I'd be hard-pressed to find a more dedicated group of professors and instructors more dedicated to their students and willing to give more than their fair share of time to ensure the success of their students. For me I can say that without a doubt, math changes lives.