Department of Mathematics
The Department of Mathematics at the University of Portland embodies the features that make mathematics an exciting and vital field of study. Our professors apply mathematics and statistics to research in biology, physics, robotics, ecology and business. As a mathematics major, you will learn problem-solving and analytical skills to prepare you for leadership in a wide variety of disciplines.
Allison Lewis - Class of 2011
Mathematics
"I really enjoyed the small class sizes at UP and getting to connect with my professors."
James Mahoney - Class of 2010
Secondary Education - Mathematics
"I have found that I still use the math and teaching skills I gained at UP, both in my daily work and in communicating complicated concepts to my customers."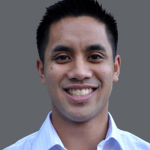 Roger Rosales - Class of 2006
Mathematics
"The UP mathematics department built a solid foundation for me to solve problems using a systematic approach."