Sigma Tau Delta Members
English Honors Society Sigma Tau Delta Membership (UP's Alpha Upsilon Epsilon Chapter):
Membership includes English Majors and Minors who are in the top 35% of their class, have earned at least a 3.5 overall GPA, and have completed 3 semesters of college, including at least two upper-division English courses.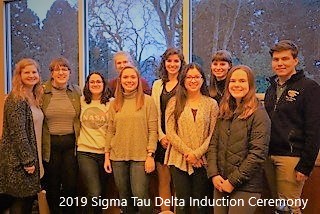 2019: Katherine Brown, Madeline Erickson, Jo Geisen, Abigail Groh, Kai Krajeck, David Mudd, Bianca Salazar, Shyanne Sarris.
2018: Sophia Aguirre, Cameron Beasley, Claire Breiholz, Wes Cruse, Kate Fennimore, Elizabeth Meyer, Hanna Redenbo, Monica Salazar, Matthew Schumann, McKenna Segel, Kyle Sparrman. 
2017: Adel Barnes, Julia Boharski, Tayler Bradley, Jessica Busek, Sasha Foley, Caroline Holyoak, Tinglei Huang, Stephen Kellar, Blanche Minoza.
2016: John Akers, Alex Allen, Megan Cushman, Emily Fitzgerald, Kate Garcia, Rebekah Kolb, Laura Misch, Abby Neirynck, Tyler Tennant, Sarah Weaver, Amanda Zazueta.
2015: Ashley Asahina, Danielle Childs, Coito, Hope Dorman, Emily Kline, Morgan Mann, Jacqueline Ott, Erica Wright.
2014: Melissa Aguilar, Alexa Bryant-Capellas, Ana Fonseca, Danielle Henry, Clare Munger, Erika Murphy, Rebecca Parks.
2013 (inaugural year): Leah Becker, Rebecca Beshoar, Amanda Danforth, Cerice Keller, Nicholas Herb, Caroline Lai, Athena Lathos, Will Lyons, Ellen Montanana, Aurora Myers, Hannah Robinson, Kimberly Serveria, Kate Stringer, Kelsey Thomas, Sarah Underwood, Hannah Wilkes.