2019-20 Readings and Lectures Series
Fall 2019
For ADA accommodations or any questions, please contact the English Department at 503.943.7228.
Marilynne Robinson, novelist, essayist.  Wed. Sept 11, 7:15 Chiles Center (hosted by the Garaventa Center)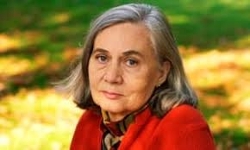 Renowned author and Pulitzer Prize winner Marilynne Robinson will present the 2019 Zahm Lecture, "Wisdom and Knowledge," which will touch upon the roles of wonder, grace and imagination. Robinson was the recipient of a 2012 National Humanities Medal, awarded by President Barack Obama, for "her grace and intelligence in writing." She is the author of Housekeeping (1980); Gilead (2004), winner of the Pulitzer Prize for Fiction and the National Book Critics Circle Award; Home (2008), winner of the Orange Prize and the Los Angeles Times Book Prize; and Lila (2014), winner of the National Book Critics Circle Award.  Her many collections of essays include What Are We Doing Here?, The Givenness of Things, and When I Was a Child I Read Books. Robinson taught at the Iowa Writers' Workshop for twenty-five years.  For further information, contact the Garaventa Center: 503.943-7702 or garaventa@up.edu.
Tracy Daugherty, nonfiction/fiction writer, biographer.  Wed Oct. 2, 7:30pm UP Bookstore
Tracy Daugherty is the author of four novels, six short story collections, a book of personal essays, a collection of essays on literature and writing, as well as biographies of Donald Barthelme, Joseph Heller, Joan Didion, Billy Lee Brammer, and Mary Evershed (astronomer and Dante scholar). His stories and essays have appeared in many journals, including The New Yorker, Vanity Fair, British Vogue, The Paris Review online, McSweeney's, Ploughshares Solos, Boulevard, The Georgia Review, and The Gettysburg Review. His work explores the intersections of public and private lives, art, architecture, music, and science, as well as urban life and American deserts, real and imagined. A member of the Texas Institute of Letters and PEN, he is a five-time winner of the Oregon Book Award. At Oregon State University, he helped found the Masters of Fine Arts Program in Creative Writing, and is now Distinguished Professor of English and Creative Writing, Emeritus.  In 2018, Literary Arts awarded him and his wife, Marjorie Sandor, the Stewart H. Holbrook Literary Legacy Award for outstanding contributions to Oregon's literary life. 
Trevino L. Brings Plenty, poet, musician. Tues Oct 29, 7:30pm UP Bookstore
Trevino L. Brings Plenty is a poet and musician, as well as a longtime resident of the Portland area.  He has two poetry collections Wakpá Wanáǧi, Ghost River (2015) and Real Indian Junk Jewelry (2005). His work has appeared in Yellow Medicine Review, Red Ink Magazine, World Literature Today, Plume, Prairie Schooner, North American Review, Waxwing, Poetry, and New Poets of Native Nations.  In college at PSU, Trevino worked with Primus St. John and Henry Carlile in poetry, and studied with Tomas Svoboda for music composition and Jerry Hahn for jazz guitar.  He received his MFA in Poetry from the Institute of American Indian Arts. He is of Minneconjou Lakota heritage, but as he explains, "I'm not skilled with the Lakota Language. My grandparents didn't pass it on. So I come to use Lakota words as I gather momentum learning my language and cultural practices."  He describes himself as "an experiential learner, an aural and visual learner." Recently, his music was included in a 2015 indigenous video game Invaders, and he is singer/songwriter/guitarist for the ensemble Ballads of Larry Drake. His influences include classical music, Beat writers, Jordan, and the urban Indian experience.  As he says, "Really, writing is escapism. I feel I can control the story while my life spins all over the place. I write in a voice I both want and don't want to be." 
 2019 Works by Trevino Brings Plenty
Luis Alberto Urrea, fiction/nonfiction writer (Schoenfeldt Series). Thurs Nov 7th, 7pm BC Auditorium
Luis Alberto Urrea uses his dual-culture life experiences to explore greater themes of love, loss and triumph. A 2005 Pulitzer Prize finalist for nonfiction and member of the Latino Literature Hall of Fame, Urrea is the critically acclaimed and best-selling author of 17 books, winning numerous awards for his poetry, fiction and essays. Born in Tijuana to a Mexican father and American mother, Urrea is most recognized as a border writer, though he says, "I am more interested in bridges, not borders."  His latest book, The House of Broken Angels, is a novel of an American family, which happens to be from Mexico. Urrea won an American Academy of Arts and Letters Fiction award and his collection of short stories, The Water Museum, was a finalist for the 2016 PEN-Faulkner Award. Into the Beautiful North, his 2009 a novel, is a Big Read selection by the National Endowment of the Arts. The Devil's Highway, Urrea's 2004 non-fiction account of a group of Mexican immigrants lost in the Arizona desert, won the Lannan Literary Award and was a finalist for the Pulitzer Prize and the Pacific Rim Kiriyama Prize. The Hummingbird's Daughter, his 2005 historical novel, tells the story of Urrea's great-aunt Teresa Urrea, sometimes known as the Saint of Cabora and the Mexican Joan of Arc. More than 100 cities and colleges have chosen Urrea's books for community read programs. Urrea attended UC San Diego, and did his graduate studies at the U. Colorado-Boulder. After serving as a relief worker in Tijuana and a film extra and columnist-editor-cartoonist for several publications, Urrea taught expository writing and fiction workshops at Harvard. Urrea lives with his family in Naperville, IL, where he is a distinguished professor of creative writing at the U. of Illinois-Chicago.
Spring 2020
Lisa Ko, fiction writer.  Monday February 10, 7pm, Buckley Center Auditorium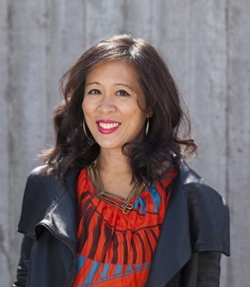 First-generation daughter of Chinese immigrants from the Philippines, Lisa Ko is a writer who lives in Brooklyn.  Her 2017 novel The Leavers won the PEN Bellwether Prize for Socially Engaged Fiction, the PEN/Hemingway Debut Fiction Prize, and was a finalist for the National Book Award.  It follows the lives of an undocumented Bronx nail salon worker who goes missing, leaving her 11-year old son behind to experience adoption and a series of teenage conflicts of identity.  The novel is a moving portrait of the inner lives of her characters caught between China and the US, as they experience international detention, double-standards, code switching, artistic fermentation, and self-reinvention.  Ko has earned fellowships from the New York foundation for the Arts, the Lower Manhattan Cultural Council, and the MacDowell Colony.  She has been published in the New York Times, O, The Oprah Magazine, The Believer, and Buzzfeed.  The Leavers is the 2020 ReadUP book selection, and Lisa Ko is the spring 2020 Schoenfeldt Distinguished Writer.
G.C. Waldrep, poet.  Thursday March 12, 7:15pm, Brian Doyle Auditorium, Dundon-Berchtold Hall.
Dr. Waldrep is an award-winning poet and editor from the South, whose works are known for their sound and performance.  His collections include Goldbeater's Skin (2003), Disclamor (2007), Archicembalo (2009), and Your Father on the Train of Ghosts (2011 with John Gallaher).  His shorter books include "Testament" (2015), "Susquehanna" (2013), and "The Batteries" (2006).  He is also the author of Southern Workers and the Search for Community, a historical monograph on the lives of early 20th century textile workers.  He earned a Ph.D. from Duke, an MFA from the University of Iowa, and a BA from Harvard.  His work has appeared in Poetry, Ploughshares, Boston Review, Beloit Poetry Journal, Colorado Review, Gettysburg Review, New American Writing, Seneca Review, Tin House, Quarterly West, Harper's, and elsewhere.  He teaches in Bucknell University's English Dept., where he directs the Bucknell Seminar for Younger Poets, edits the journal West Branch, and serves as Editor-at-Large for The Kenyon Review.  He is a member of the Old Order River Brethren.
Dr. Brittney Cooper, Rutgers University Professor. Friday, March 13, 5:30pm Buckley Center Auditorium.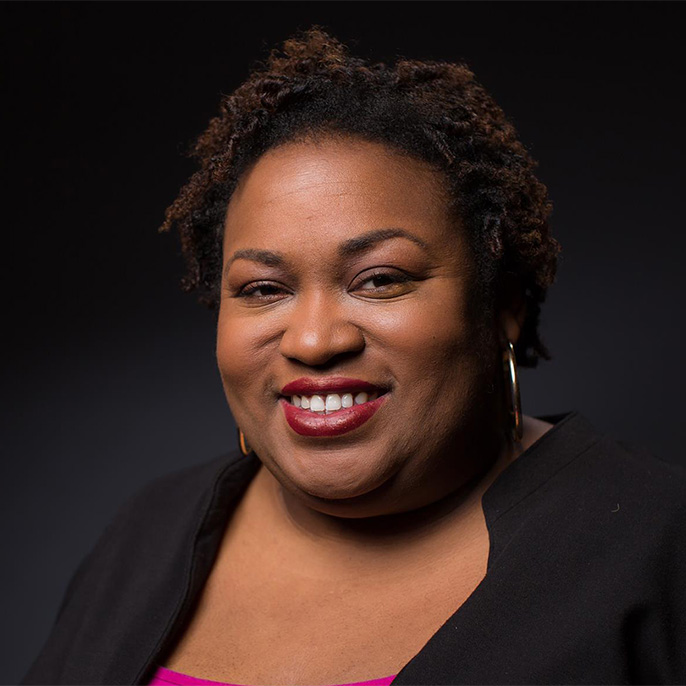 Brittney Cooper, Associate Professor of Women's and Gender and Africana Studies at Rutgers University, is a leading Black feminist speaker and author with big ideas about women's voices and women's activism, both contemporary and historic.  Her most recent work is Eloquent Rage: A Black Feminist Discovers Her Superpower (St. Martin's Press, 2018).  An author of many popular essays and newspaper articles, (as well as the books Beyond Respectability: The Intellectual Thought of Race Women and Eloquent Rage),  a TED talk speaker as well as a scholar and teacher, Dr. Cooper exemplifies the core concept of the public humanities—taking the methods and questions of the humanities and bringing them into the public sphere.
Dr. Cooper will be giving this keynote address for the annual Public Research Fellows Program, on the Centennial of U.S. Women's Suffrage.
Dr. Jen McDaneld, professor. Sat. Mar. 14, 1:45pm, Brian Doyle Auditorium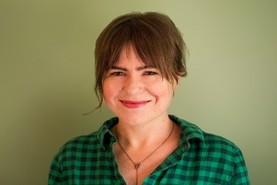 Dr. McDaneld teaches American literature and core curriculum courses in UP's English Department. She is also a co-founder and coordinator of Public Research Fellows, a new public humanities program in the College of Arts & Sciences. She holds a Ph.D. in American literature from University of North Carolina at Chapel Hill and a Graduate Certificate in Feminist Studies from Duke University. Her research focuses on suffrage literature, the print culture of U.S. women's right movements, and the scholarship of teaching and learning, with essays published and forthcoming in journals like Legacy: Journal of American Women Writers, Signs: Journal of Women in Culture and Society, Feminist Teacher and Pedagogy. She also serves as a reviewer for several journals and presses, including Broadview, Legacy, and Teaching American Literature. Currently, she is working on a book project that examines the overlooked genres of U.S. suffrage literature to recover suffragism from its "bad literature" and "bad feminism" critical frameworks. Her talk "Why We Should Take Literary Studies Public: The Case of the Suffrage Centennial" is the keynote address for the Northwest Undergraduate Conference on Lit.
Anders Carlson-Wee, poet.  Wednesday March 18, 7:30pm, UP Bookstore
Anders Carlson-Wee is the author of The Low Passions (W.W. Norton, 2019). His work has appeared in The Paris Review, BuzzFeed, Ploughshares, Virginia Quarterly Review, New England Review, Poetry Daily, The Sun, Best New Poets, The Best American Nonrequired Reading, and many other publications. The recipient of fellowships from the National Endowment for the Arts, the McKnight Foundation, the Camargo Foundation, Bread Loaf, Sewanee, and the Napa Valley Writers' Conference, he is the winner of the 2017 Poetry International Prize. His work has been translated into Chinese. Anders holds an MFA from Vanderbilt University and lives in Minneapolis. www.anderscarlsonwee.com